At first glance, buying an entry door looks simple-after all, it's just a door, right?
Um, no. As anyone who's researched the purchase quickly discovers, there are multiple issues and decisions involved in purchasing the best entry way door. What follows is a rundown of most of the basic ones, with a high quality NOVA door being among the best.
Do Your Homework
Getting the best entry way door requires some homework. Start by researching some store and manufacturer's sites to get an idea of what's available, then visit a brick-and-mortar outlet to see the products in person.
The value of making a connection between the two will quickly become obvious. There's value in knowing the range of choices, and seeing the products in person helps narrow the decision. It's a powerful combination that shouldn't be ignored.
Energy Issues
Few people think about energy issues when it comes to buying a door, but it's actually important. A poorly-fitted or badly-insulated door can cost a lot of money, especially during the winter.
Make sure the door is Energy Star-qualified. To get this rating the door must be independently tested, and doors with this rating usually have better fitting frames, sofa set price better construction and multiple glass panels if glass is a part of the design.
As for the materials, doors made of fiberglass or steel typically have better insulation than those made of wood. It's also important to remember that most doors lose the most heat through leaks around the door, so even the best insulation in the world won't completely solve the problem.
Installation
Even the best door can end up being problematic if its poorly installed. The best approach is to choose a new door that's the same size as the old one, and it's usually a good idea to have a contractor install it.
Some of the home center stores offer referral services, but the overriding factor is to get someone who has the appropriate level of expertise.
Safety
Most entry doors offer solid protection against burglaries, but there are some extra protection measures that should be considered.
Burglaries typically succeed because the door jambs split near the strike plate of the lock. Using a longer deadbolt is one possible way to counter this, and longer mounting screws also offer extra protection as well.
Entry Door Materials: Strengths and Weaknesses
Fiberglass doors typically come in a wood grain texture that makes them attractive, and edge treatment can be used to make them look more like real wood. They tend to resist wear and tear better than other types of doors, plus they can be stained or painted to add to the physical appeal.
Fiberglass doors generally have lower maintenance costs, but their chief weakness is that they'll crack more easily upon severe impact.
There's a reason steel accounts for about half the entry door market – it's less expensive, plus it offers a greater level of weather resistance than fiberglass or wood doors. Steel doors also tend to be more energy efficient, unless glass panels are added to the equation.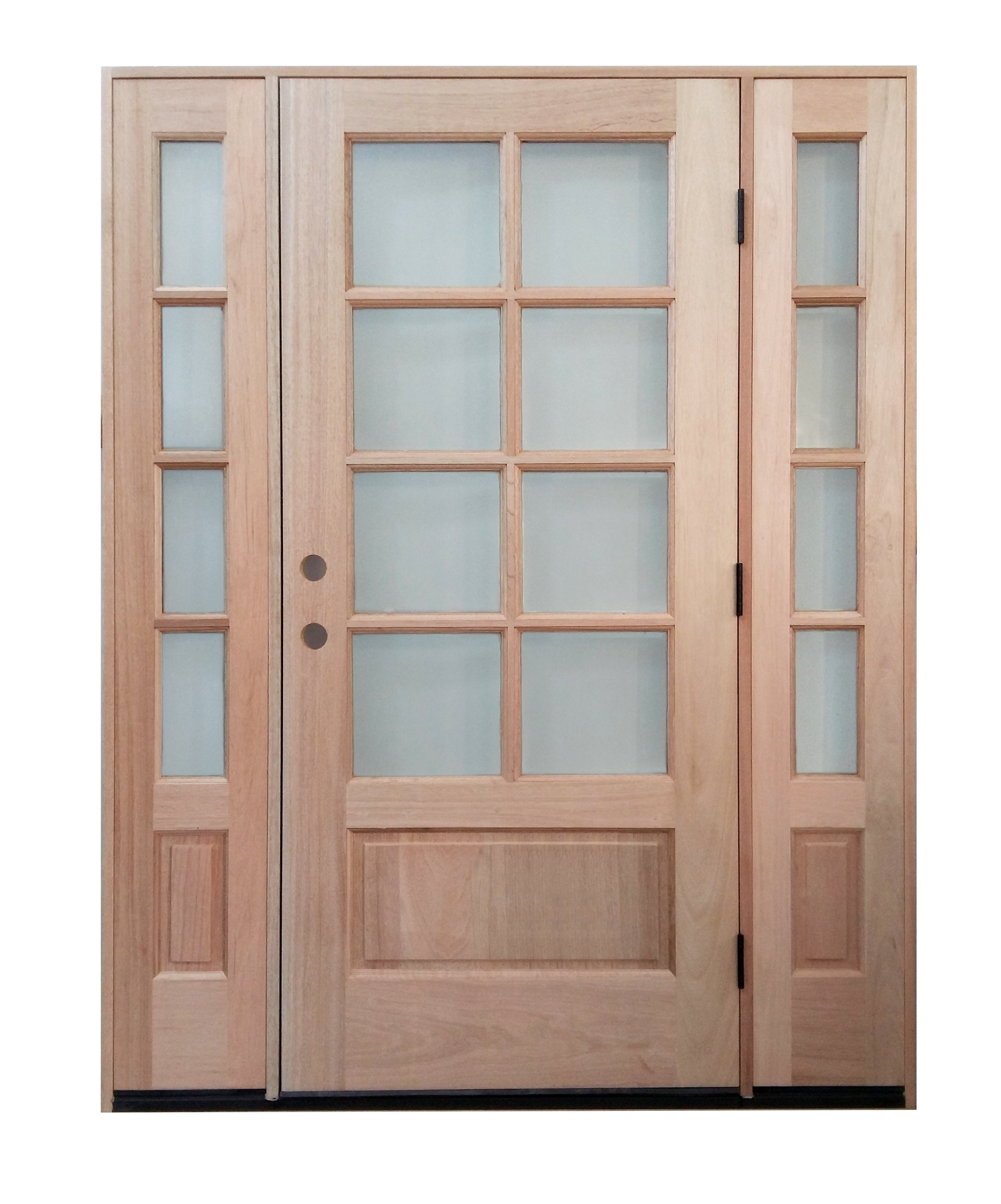 There is some maintenance required when it comes to dealing with to deal with dents, and steel doors aren't as weather-resistant as their fiberglass or wood counter parts. Finally, any scratches may rust if they're not fixed right away.
The strengths of wooden doors include the high-end look, and wood tends to resist wear. Wooden doors don't dent easily, and scratches are easy to fix. The downside is the cost. Wood doors usually cost more, and they also require regular painting or varnishing to maintain the high-end look.
Entry Door Features
There are many extra features available for an entry door, including glass panels, side glass, grills, sidelights and transoms. Glass inserts can make the door more attractive, but they also increase the cost and may decrease the insulation capability.
Features like glass may be considered frills by some buyers, but getting an adjustable threshold isn't. This kind of threshold can help maintain weather protection, and it can also seal out drafts as well.
Rails and Stiles
These are the horizontal and vertical braces that help reinforce a wooden door. They can warp or bow if they're made of plain wood, so it's a good idea to make sure they're made of laminated wood coated with veneer to help prevent warping as much as possible.
Finally, if you want the best high-quality door, be sure to contact a reputable manufacturer or company – you'll get a great entry door you can be proud of for years to come!